TOOL TROLLEY INDIA / TOOL TROLLEY
What is Tool Trolley?
Tool trolley is trolleys which is used for storage of material, and move the materials from one place to another place. Tool trolleys provide a perfect storage solution when tools and apparatus need to be moved between areas. The trolley with obvious function, push released design on ball bearing slide provided are easily detachable for stand-in and automatically locked again system.
We are well known in market as the leading manufacturer, wholesaler and supplier of Tool Trolleys, India. We are offering the tool trolley whose drawer is available in different sizes and designs to suit the requirements of our clients. Moreover, our quality examiners test this drawer against different parameters so as to assure quality product at user's end.
Our provided tool trolley's features are robust in terms of construction, resistant to abrasion, equipped with multiple shelves and portable as well. Being flawless in terms of finish and resistant to corrosion, this trolley is demanded in workshops of electrical and automobile industries.
Further, these tool trolleys undergo various in-house superiority guarantee events conducted by our team of superiority controllers in order to make sure a defect-free design.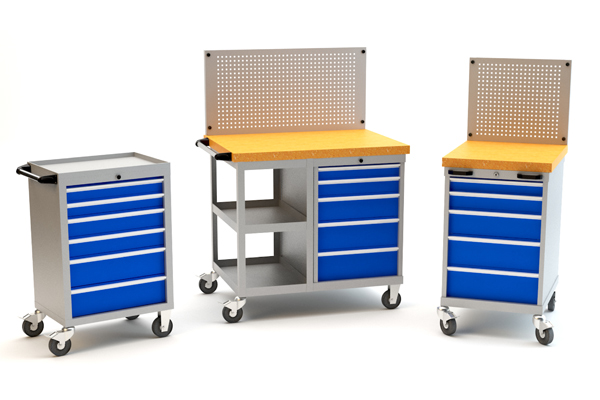 Type of Tool Trolley
The below mentioned are the few types of tool trolley manufactured by us as per the clients requirement.
Drum Trolley
Hand-operated Hydraulic Trolley
Warehouse Trolley
Gas Cylinder Trolley
Material Tool Trolley

Industrial Tool Trolley
Bin Trolley
Service Tool Trolley
Platform Trolley
Wire mesh Trolley
Working Principle of Tool Trolley
Maxstor Tool Trolley guarantees the safe transportation of tools. They require the little storage space, shorten distances in the storage area and reduce issuing times and setting-up costs.
Increased production due to rapid and safe handling of tools
Pre-set tools can be easily moved by means of a Maxstor tool transporter from the tool store to the machine, from there to the inspection area for re-sharpening and calibration and then back to the tool store.
Powder Coated with 7 tank Pre Treatment Process with choices of 4 attractive colors.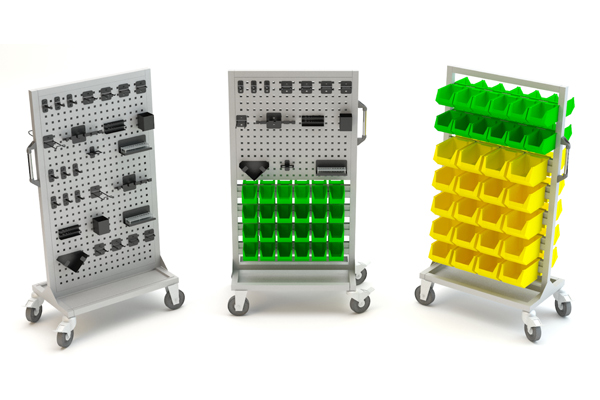 Function of Tool Trolley
Maxstor tool trolley is particularly well suited for non-stationery workstation.
Tool Trolley save more than 50% in wasted labour, as stored item are clearly arranged.
Improved shelf life of tools, appearance, safety and morale.
It allows vital tools to be safely transported and precisely housed for speedy accessibility.
Application of Tool Trolley
These products find application in many industries as they are made in latest trends and styles. Moreover these products are sturdy and able to maintain heavy loads, takes lesser space, have rigid structure, durable and reliable.
Automobile Industry
Electronic Industry
Logistics
Warehouse
Military enterprises
Machinery
Textile Industry

Aerospace Industry
Pharmaceutical Industry
Storage Supermarket
Railway
Food Industry
Petrochemical Industry
Technical Specification of Tool Trolley
Sr. No
Types of Tool Trolley (all for manual operation)
Capacity
1.
Drum Trolley

Handle Length 1m
Two large wheels and one small wheel arrangement
Wheels made of nylon / polyurethane
Securely held drum
Drum diameter (app. ) 50cm

One Drum of 50L
2.
Hand-operated Hydraulic trolley (material: mild steel)

 smooth, swivel-motion wheels (4 in number) made of nylon / polyurethane
turning radius < 0.5 m
capability to lift loads from 5 cm to 20 cm
typical length of cart is 1 m and width is 0.5 m

2000Kg
500Kg
3.
Warehouse (or platform) trolley (material: mild steel)

4 wheels (nylon / polyurethane) with double ball bearings and swivel motion
Length: 0.5 m
Width: 0.5 m
Height: 1.0 m

1000Kg
500Kg
200Kg
4.
Hydraulic Hand Pallet truck (material: mild steel)

For lifting loads from 5 cm to 20 cm
Fork length = 1 m, width = 0.5 m
Wheel: Nylon / polyurethane
 Number of pumping: 15 (approx.)
Weight: 60-75 kg (approx.)

1000Kg
5.
Gas Cylinder trolleys

Castor Rubber wheels / Nylon wheels
Retractable rear wheel arrangement
Cylinder(s) held by safety chain
Cylinder diameter (approx.) 30 cm
Filled cylinder weight (approx.) 120 kg
Optional: braking wheel

Single Cylinder
Double Cylinders
Advantages of Tool Trolley
Robust infrastructure
Research & development facility
Quality monitoring unit
Competitive priced products
Timely delivery of consignment.
Wide range designs for a wide variety of applications such 570 / 720 mm wide.
Available with adjustable bin rail to accept plastic bin containers for small parts.
Why Our Tool Trolley?
We work according to the commitment to customer
Our professionals are having end to end product and service knowledge
We are flourished with skilled Professional and well trained sales force
We are having wide delivery network
With the best business policies
Robust construction with rigid welding structure
Our tool trolleys are having convenient handle support provided at both sides for easy handling as well as sturdy and durable construction finish for lasting usage.
Note :- With help of latest technology and designs, the specifications may vary according the requirement and specification of the clients.